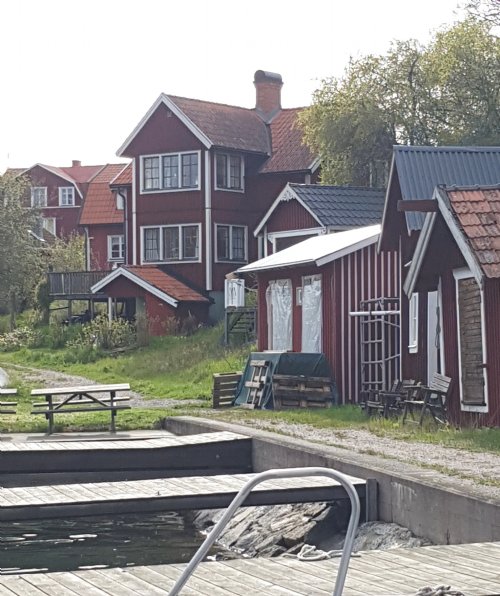 ID 2810 Möja Långvik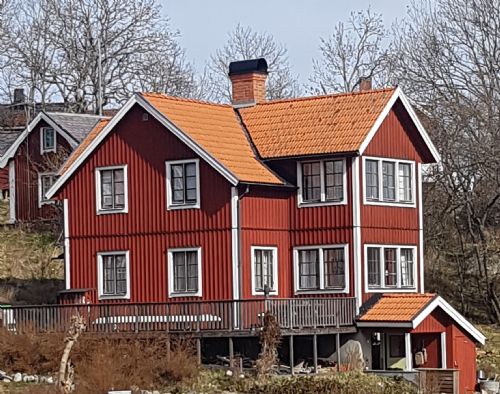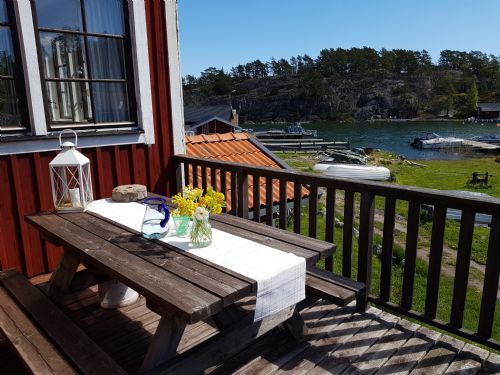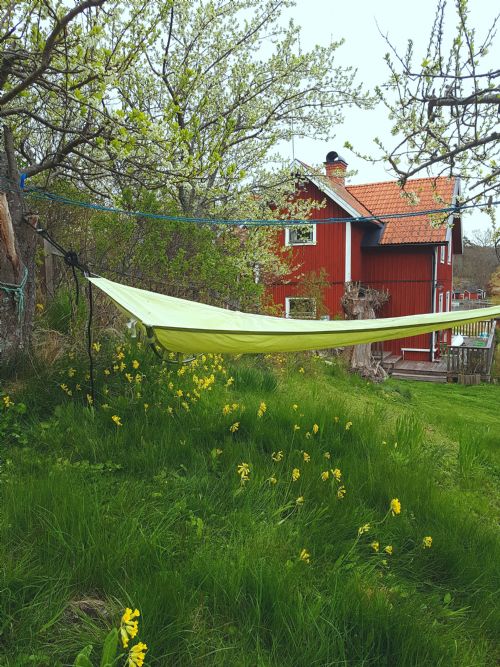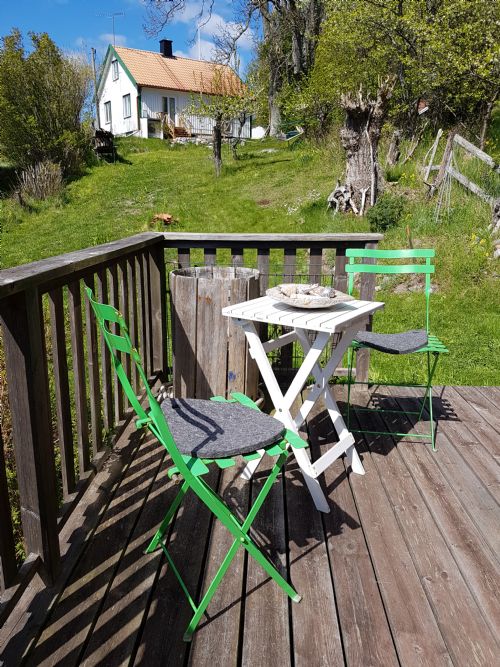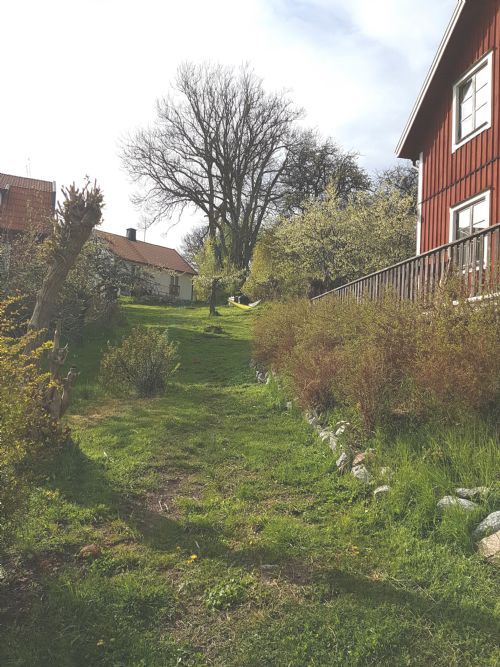 Liten väg nedan huset/ Small gravel road down the house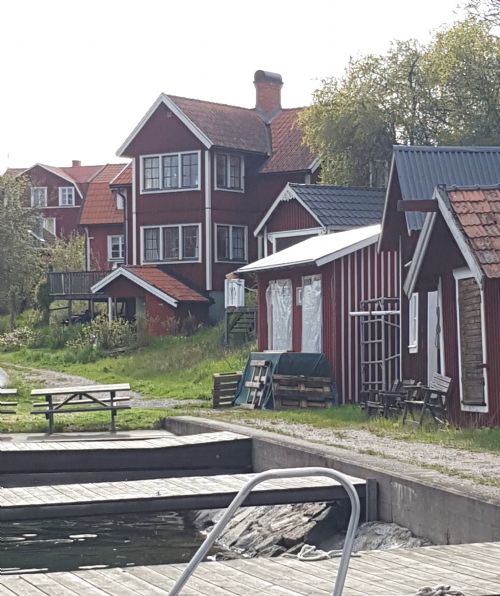 Egen brygga nedan huset/ Privte jetty below the house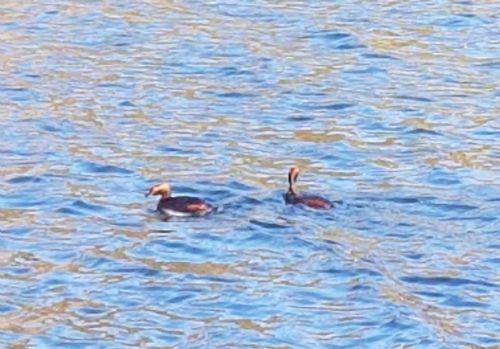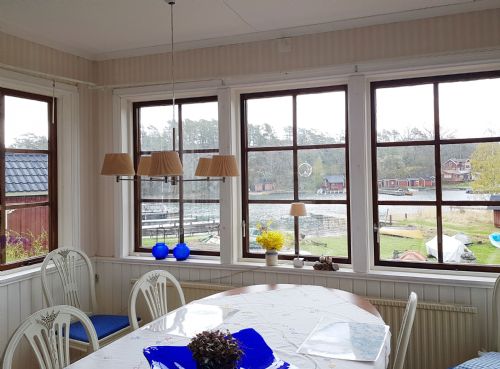 N.V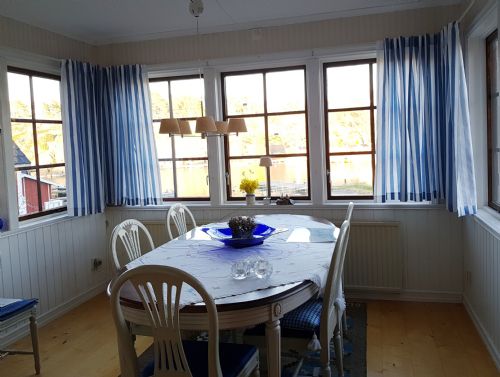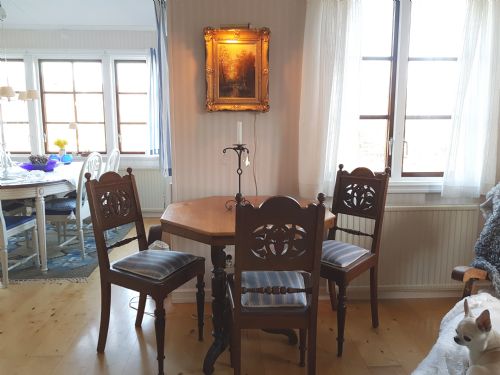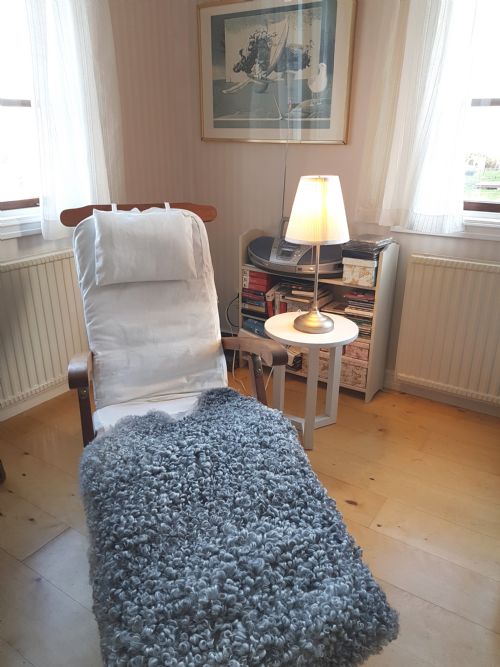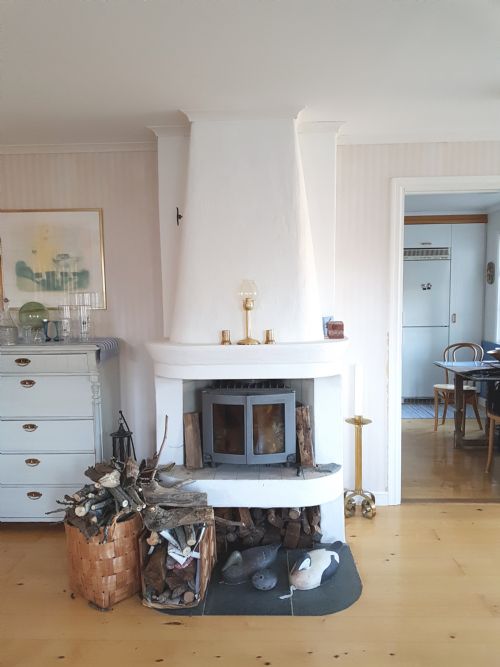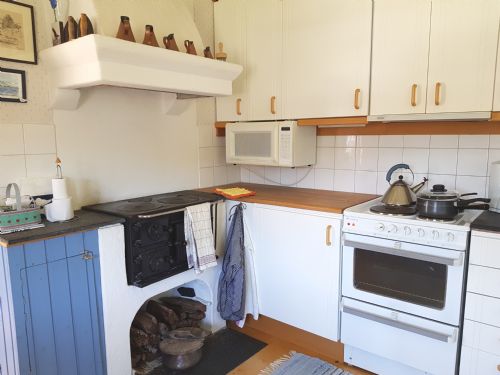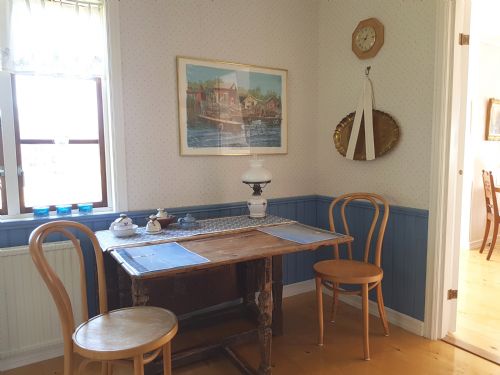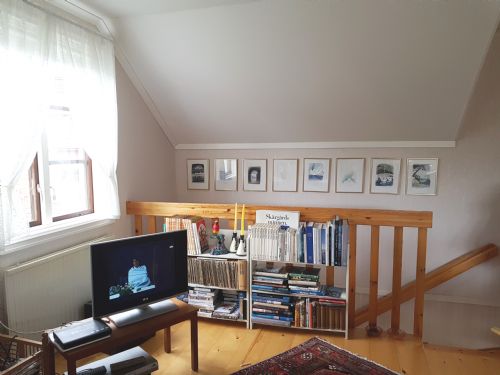 Ö.V
Bäddbar soffa, Ryggstöd finns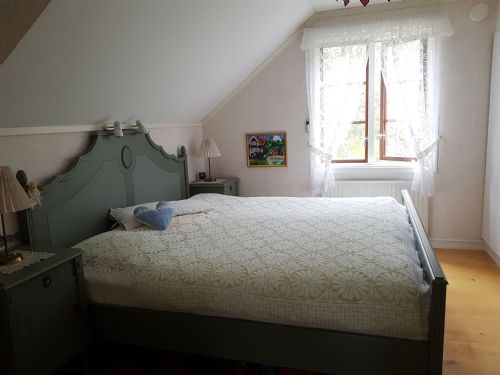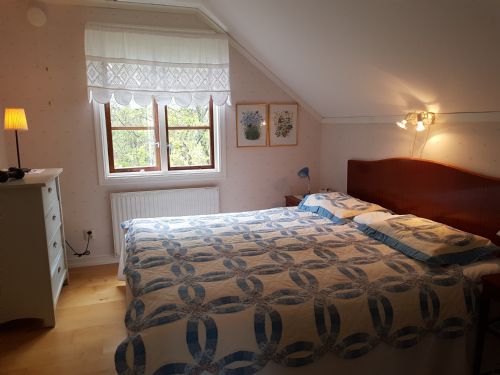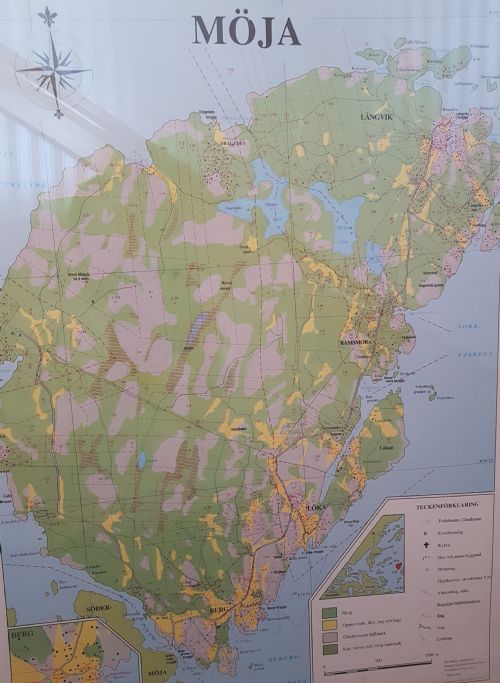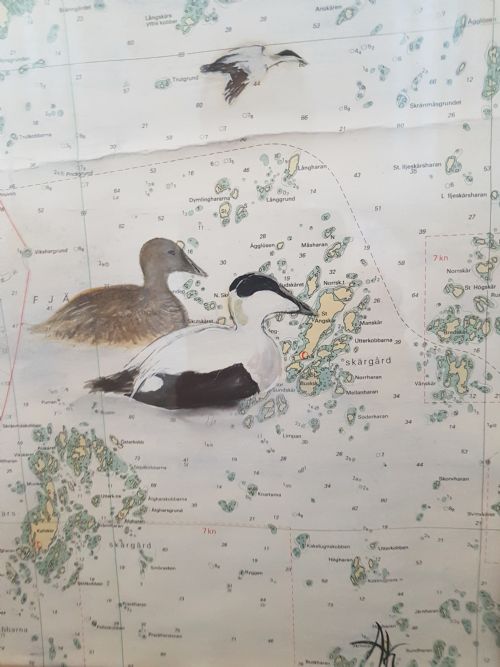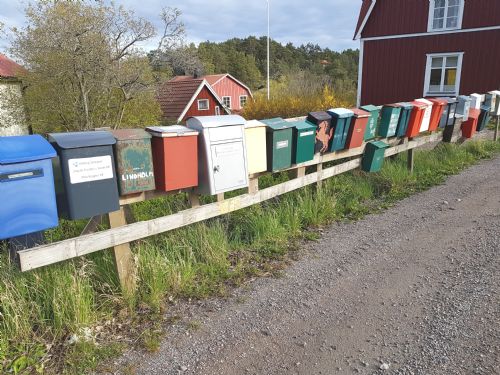 Postlådor längs med landsvägen
Images
Stora Långvik Möja
ID2810

The house is located in the village above the guest harbor with boathouses and its own jetty directly below the site. The accommodation is large and spacious on two levels with a breathtaking lake view.

---
Möja is one of the larger islands and lies in the outer archipelago facing the open sea. About 300 people live here all year round. The villages retain their charming character with older houses and booths from the turn of the last century. There are shops, museums, archipelago galleries, handicraft shops, cafes and restaurants, and events are organized for all ages. Möja's beautiful archipelago nature is perfect relaxation and experience with fine hiking trails and winding dirt roads for walks and bike rides. There are bike rentals as well as kayak rentals that arrange guided tours in Möja's paddle-friendly archipelago.
The interior of the house is stylish, homely and functional.
Downstairs there is a living room with fireplace, the dining area has a wonderful view over Långviken. Kitchen with dining area and toilet. NOTE the stairs between the floors have open steps that are not child safe, but stair gates are available.
Upstairs you have 2 bedrooms with double beds and a family room with TV. The sofa can also be used as a sleeping area, blackout curtains can be hung.
Bathroom with shower and toilet. An older washing machine available in the basement.
The house has its own well. Good water quality and taste.
The balcony with sunny location during the day has dining table with benches and 4 folding chairs with cushions. Newly purchased barbecue and some sun loungers are also on site. You can enjoy the evening sun in the harbor below the house. There are communal tables and benches and a tip from the homeowner is that you bring something to eat / drink and end the evening there.
You can swim in several places within walking distance. The closest bathing opportunity is the cliffs at the steamboat jetty about 3 minutes away. There is a small sandy beach by Långviks brygga. A very nice sea bath with rocks you should not miss is about 1 km from the house. Möja has no major beaches but a child-friendly shallow cove is found in about 20 min. walk. There is also a small bathing lake that gets warm as soon as the sun shines.
There is a nice little inn (Jeppes) in the village just a few hundred meters from the house. Where good food is served in a cozy environment. It also sells fresh bread and more.
The grocery store in Långvik is only open in summer and opens the midsummer week. The grocery store Coop in Berg 5 km away is open year round and it also has system company extradition. There you go by bicycle on the fine dirt road. Bikes and bike carts are available for rent by the owner.
You can also order food delivery from Mathem.se. Please note that all food and drink orders must be made well in advance of the desired delivery date.
You go to Möja by boat. Regular boat Waxholmsbolaget departs from Stockholm and the journey takes about 2.5 hours. You can also drive to Värmdö, long-term parking and take a boat from Boda jetty or Sollenkroka jetty.
Mandatory departure cleaning SEK 1400.
NOTE: 2023 Week. 30 is let for 6 nights Saturday 22/7 - Friday 28/7.
On request:
Rent of bed linen and towels: SEK 150 / person
5 bicycles model Ä without gears (some incl. Bicycle baskets) 250 SEK / pc / week
Bicycle trolley for food and other packing 250 SEK / week
Boat site at own dock for smaller boat p.f. Larger boats are referred to the guest harbor.
NOTE! With a Swedish SIM card and an adapter / dongle you can use mobil surf. SIM cards with an adapter / dongle can be bought in larger grocery stores and at most kiosks.
Show on map
17.400 kr
FACTS
Type of house
Holiday Cottage
Standard of building
high standard holiday home
Decoration standard
high standard holiday home
Total number of rooms incl. kitchen
5
BEDROOMS
BATHROOM
KITCHEN
Kitchen
Kitchen with dining area
Stove
Electric cooker and oven
EQUIPMENT
TV
Channel Supply Standard
Internet
Yes/Mobile broadband
SURROUNDINGS
Site
Island by regular boat services
Dist to regular boat
300 m
Click on planned week
| | | | | | |
| --- | --- | --- | --- | --- | --- |
| | OCTOBER 2023 | NOVEMBER 2023 | DECEMBER 2023 | JANUARY 2024 | |
Rated

4.25

/5 based on

3

customer reviews